Welcome to My Imagination
Pattie Palmer-Baker has always loved words, so much so that after many years of classes and experimentation, she has evolved a style which combines her poetry in calligraphic form with collages of paste paper. Although her calligraphic style is based on the 8th century Carolingian alphabet and her paste paper process is adapted from a 17th century decorated paper technique, her work has a distinctly modern appeal. 
In addition to having her artwork grace the walls of several galleries, Pattie is also an accomplished, published poet, as well as a past poetry co-editor for VoiceCatcher: a journal of women's voices and visions.
And now, a prizewinning novelist…
Now Available from MoonPath Press
Five Fundamental Forces
Poems by Pattie Palmer-Baker
Paperback: 92 pages
Publisher: MoonPath Press (May, 2023)
"The fundamental forces in our lives might include parents, siblings, husbands and wives, lovers, the rain and the sun. As Guns & Roses once sang every rose has its thorn. In this stunning new book, Pattie Palmer-Baker delves deep into these forces with a narrative and lyric force of her own. The poems here are generous, vulnerable, grown-up, and a joy to read. Palmer-Baker is a poet of witness, and this book is a balm for any prick of a thorn you may have suffered in your life."
—Matthew Dickman, author of Husbandry
Available from Kelsay Books
The Color of Goodbye
Poems by Pattie Palmer-Baker
Paperback: 42 pages
Publisher: Kelsay Books (March 15, 2021)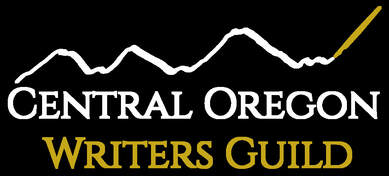 Central Oregon Writers Guild awards First Place to Pattie Palmer-Baker for her poem "Eyebrow Bear."
Adult Poetry
1st Place: Patty Palmer-Baker "Eyebrow Bear"
2nd Place: Carolyn Tate "Me, Jungle"
3rd Place: Tess Marino "And Then, White Pelicans"
​Honorable Mention: Randy Workman "We'll Be Right Back After These Messages" 
First and second place winners from each category (poetry/fiction/non-fiction) will read their winning pieces on October 10, 2020 from 2-5PM at the Downtown Bend Public Library (there will be cake!).  
Read Poem HERE
You can also enjoy watching Pattie read her prizewinning poem in the video below, courtesy of Deschutes Public Library.
(Note: Pattie's introduction and reading begins about 40 minutes into the video.)
The Bivona Prize for the year's most outstanding senior writing effort has been awarded by Ageless Authors to Portland, Oregon artist and writer Pattie Palmer-Baker.
Announcement of the Bivona Prize, named in memory of novelist and poet Ginnie Siena Bivona, was made this week from Ageless Authors headquarters in Dallas.
"Pattie was the unanimous choice for our second annual award," says Larry Upshaw, Executive Director of Ageless Authors, the international group dedicated to encouraging and promoting senior writers. "She completely dominated our poetry category like no one before."
Larry Upshaw, executive director of Ageless Authors, said more than 50 judges winnowed approximately 450 international submissions to three finalists. The organization announced Palmer-Baker as the winner July 10.
Read Full Announcement HERE
Portland's 'gangster' crows inspired poem that won international contest
A dead crow in Portland gave life to a poem that put Pattie Palmer-Baker at the top of a worldwide literary contest.
Palmer-Baker, of North Portland, was driving along North Ainsworth Street when she spotted a crow's body, surrounded by other crows as if they were holding a crow funeral. "I swear they all bowed," she said. "I was very moved by that."
The sighting inspired a 200-word poem, "Gangsters of the Portland Sky," which she wrote in a class she took with poet John Morrison….
Read Full Article by Amy Wong, OregonLive HERE
Del Sol Press is pleased to announce that MALL by Pattie Palmer Baker has won the 2017 Del Sol Prize for First Novel.
Now Available from Atmosphere Press
Mall
A Novel by Pattie Palmer-Baker
Set in an alternate world, MALL is a place where everyone is beautiful, and everyone is employed so they have enough income to consume and to experience a myriad of pleasures: drugs, gambling, theater, holographic adventures. No poverty and little or no crime. A lot of sex.
But what's the catch? And what happens when Sara, a 21st century woman, accidentally finds her way into this alien yet familiar world?  Who will risk leaving and who will decide to stay?
---
"It was the most original idea and kudos to the author for managing those dueling viewpoints. We can all relate to going to a mall we've never been to and getting swept up in the flow… and then, where IS the exit?!" 
Hallie Ephron
Contest Judge for Del Sol Press,
Award-Winning, Best-Selling Mystery Writer
Less body than ravens,
crows shine the same black magic.
Sleek bodies, sharp beaks, clever feet —
so deep the mystery of their black feathers!
Long ago they gathered in a murder
so large they blacked out the sun.
And night was born.
My husband's eyes are underwater blue.
When he listens, his body is a still blade of grass
in a windless lawn. He tells me young love
is a waterfall that bludgeons us senseless,
but old love drips on craggy boulders
until the shape rounds into never-ending.
You're no different from us
always looking for the shine,
the opals cached in oil slicks,
the color-chart arcing the sky. . . .